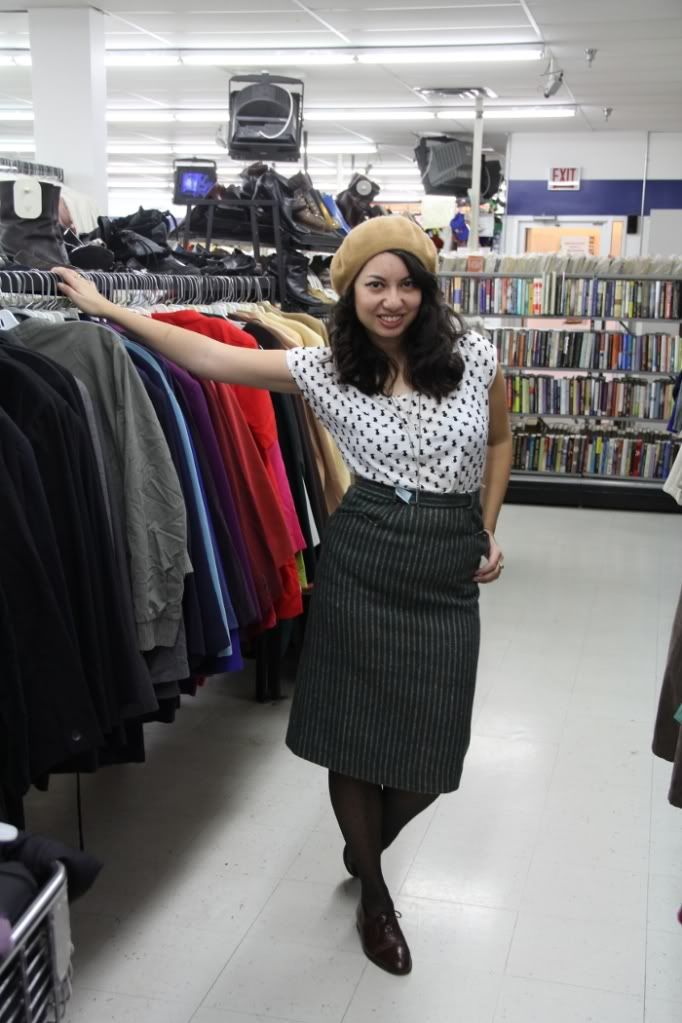 Up until a year ago, I mainly thrifted/flea marketed/attended estate sales on my own. Often I'll squeeze in a quick stop at the thrift store or swing by a garage sale on my way to work so going solo is just more convenient. In the past year, however, I've made thrifting with a buddy more of a habit and luckily my friend
Maranda
and I lined up our schedules to have a "thriftventure" in my home thrifting territory– Wicker Park/Logan Square. We shopped two large thrift stores, lunched at Sultan's Market (cheap and delicious), took silly blog photos and had a lot of laughs while doing all three.
Surprisingly no one even looked our way while we were taking photos at the thrift stores. I also believe Maranda is my good luck charm as we both came away with an armload of vintage goodies from each store!
It was an unseasonably warm winter day when we took these photos (back in February, over a month ago, oops!) which explains my sheer tights and open coat.
Also I apologize for the text being underlined in half of this post. I've spent over an hour deleting/fixing code and it'is still not working right. It's 1AM so I'm just publishing this post as is for now.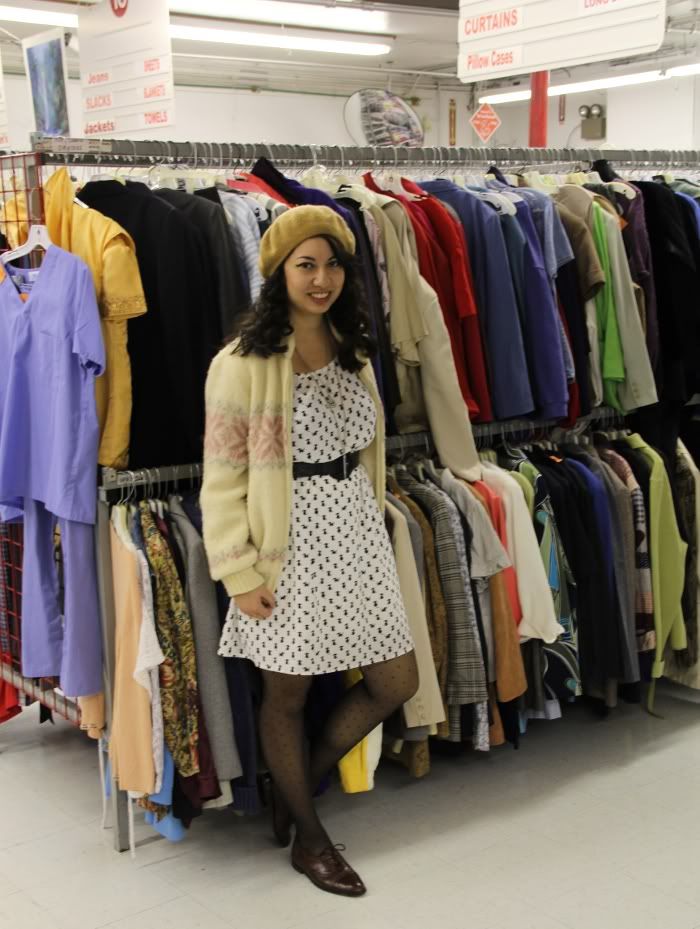 Our first stop was Village Thrift, a 2-story thrift store. It can get picked over quickly, as it's situated in a "hipster" area, but since I go there on a weekly basis I always walk away with something. The cooler version of me would have snapped up the vintage wool sweater shown above and below. It's definitely more flattering on me in the photos, in person it was rather bulky.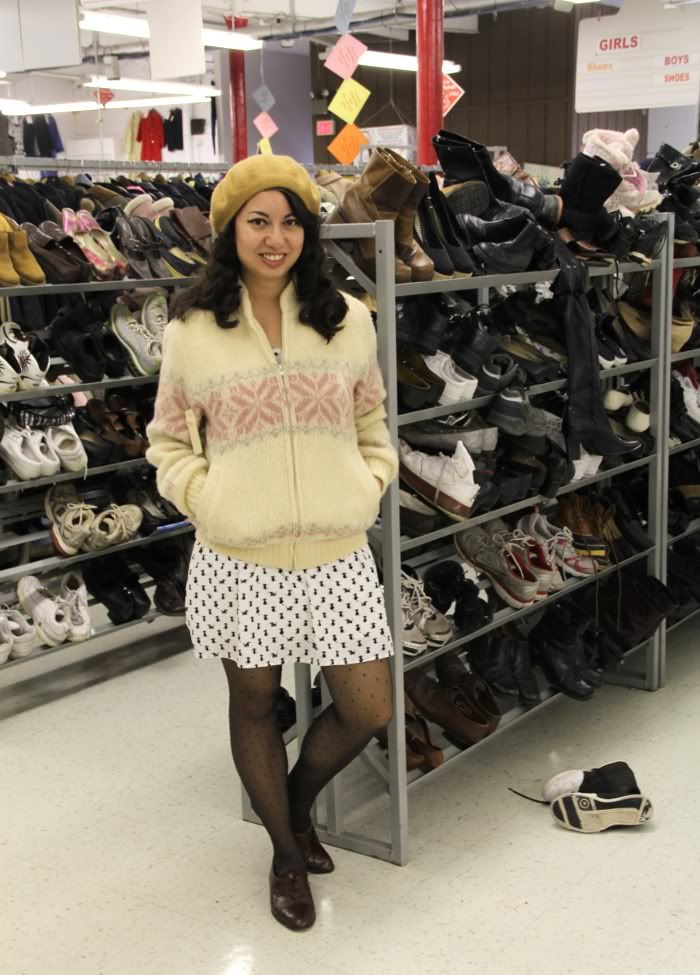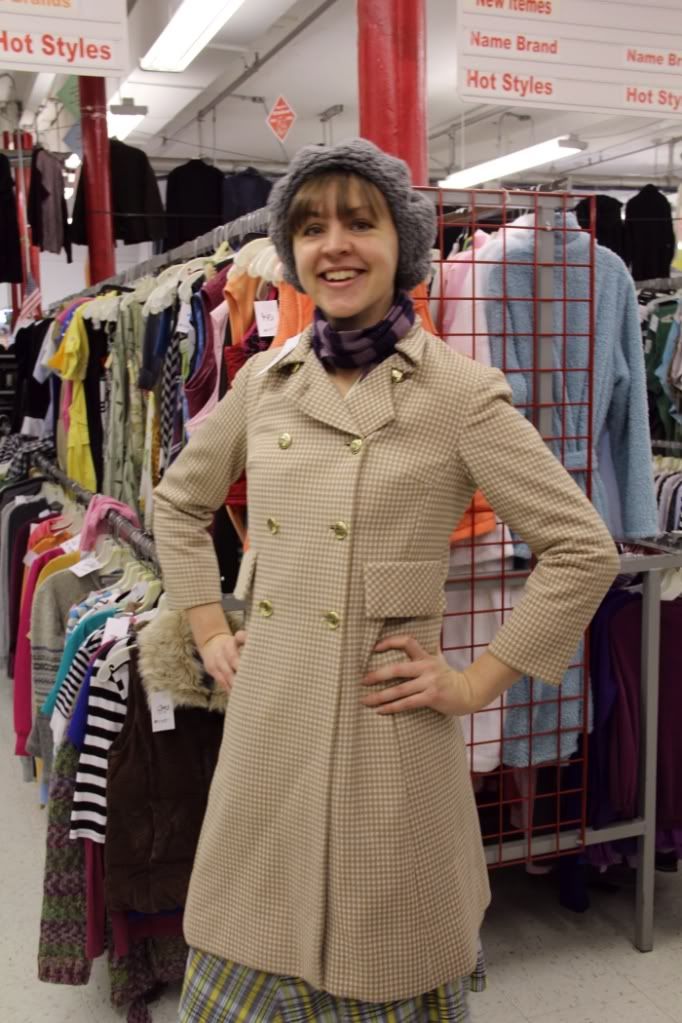 Maranda's first find of the day was this checkered tan wool coat by Rothschild. We liked the brass buttons and the Mod look.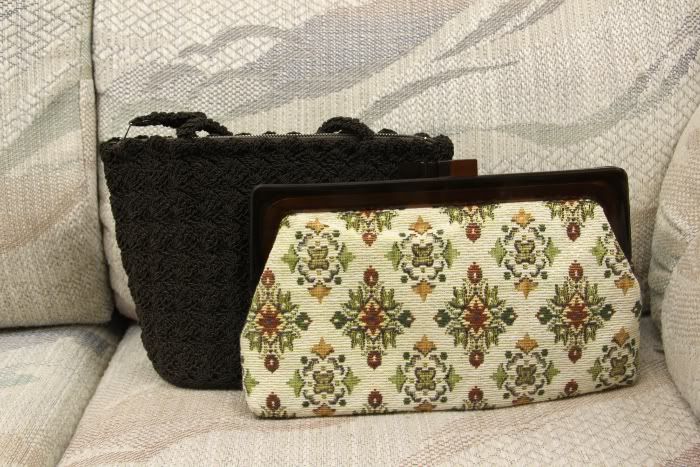 I REALLY don't need any more small vintage purses but I couldn't say no to the brown Corde purse in the back, especially since it was half off! I collect tapestry purses so was drawn to the clutch, unfortunately the plastic frame was warped so I passed on it.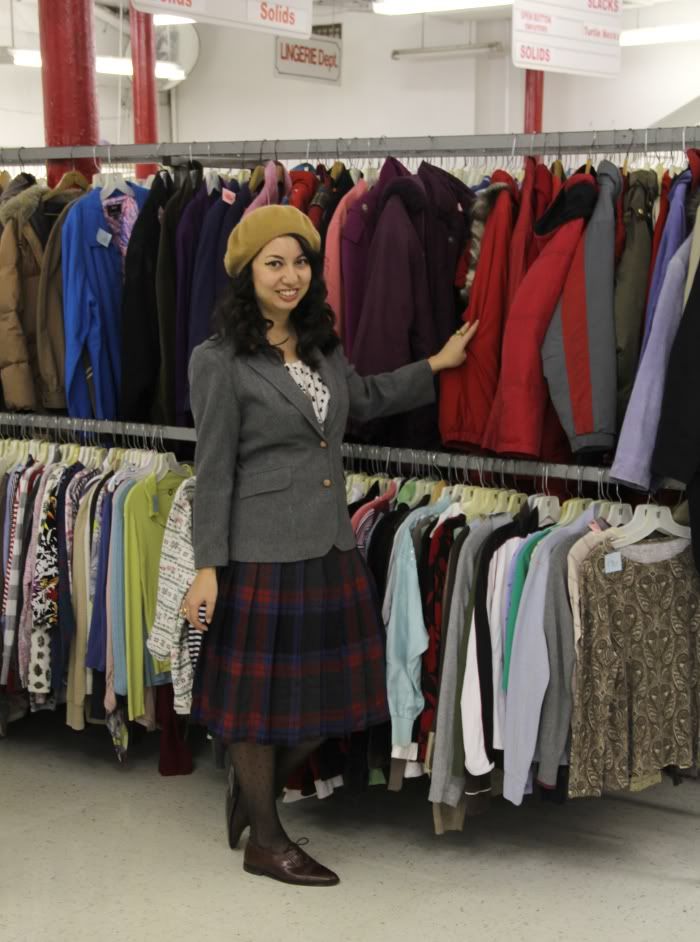 Maranda dubbed this ensemble my "professor" outfit. I DID end up buying both the 1970s wool plaid skirt and gray '70s blazer though I won't be wearing the two pieces together.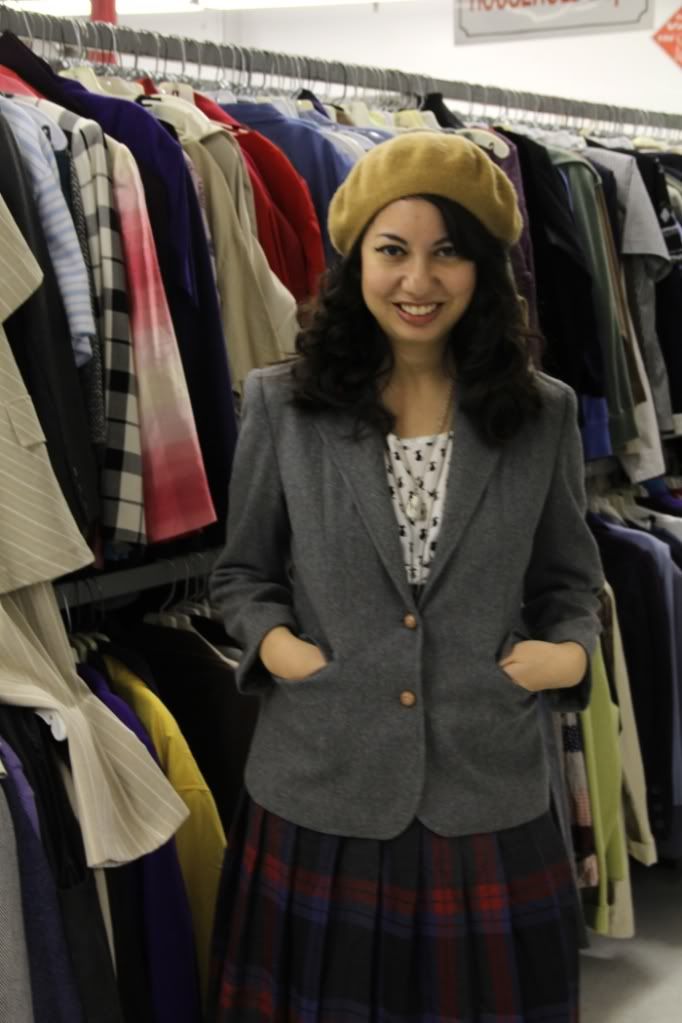 What a 1970s graduate student in the humanities would have looked like…
A pink tupperware canister set! Unfortunately it was in rough condition.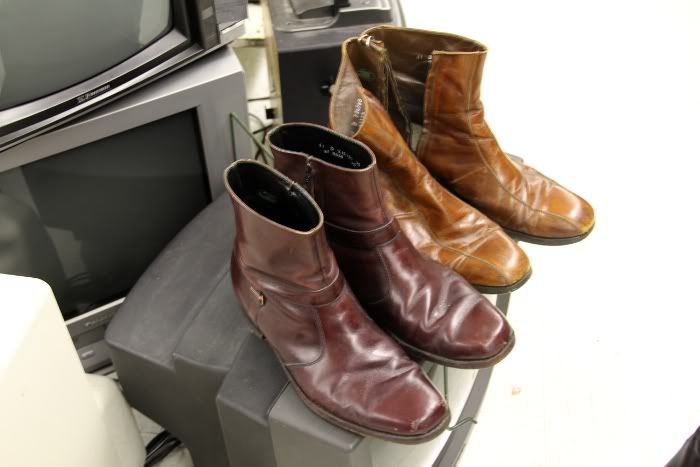 Maranda's husband is one lucky man– he was the lucky recipient of not one but TWO pairs of vintage Florsheim brand leather boots that she found at the Village.
Our second stop was only a few blocks down Milwaukee Avenue, The Family Thrift Store. We both found sassy skirts there, I'm modeling a 1960s wool pencil skirt and Maranda is in a sexy red leather skirt from the 1980s. Yes, we squeezed into these skirts in the middle of the store as there were no dressing rooms.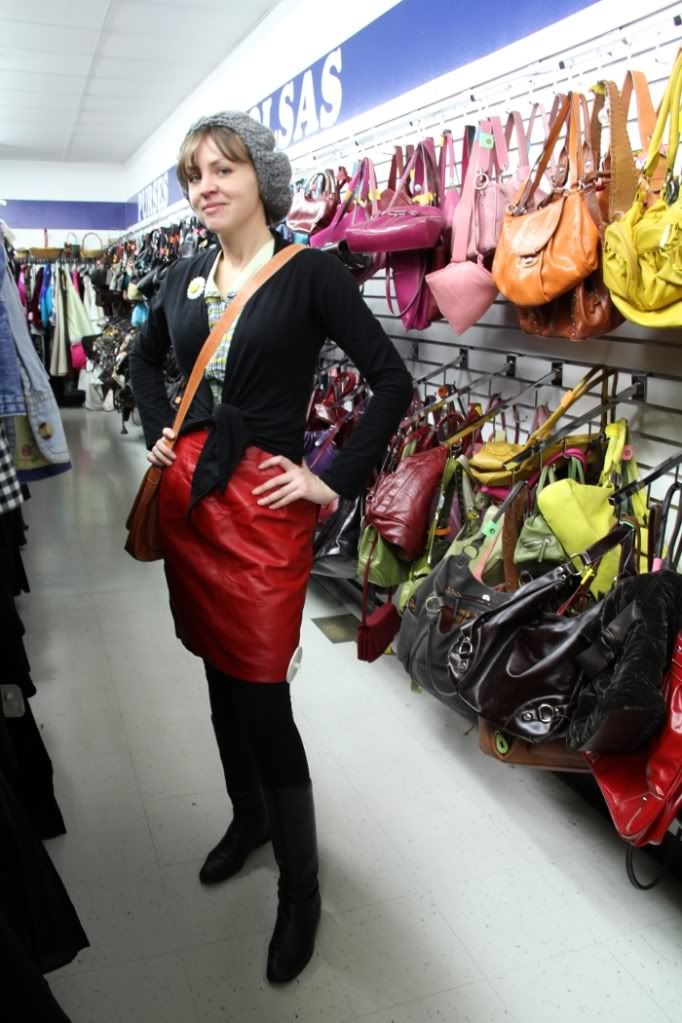 Maranda striking a pose in her new skirt.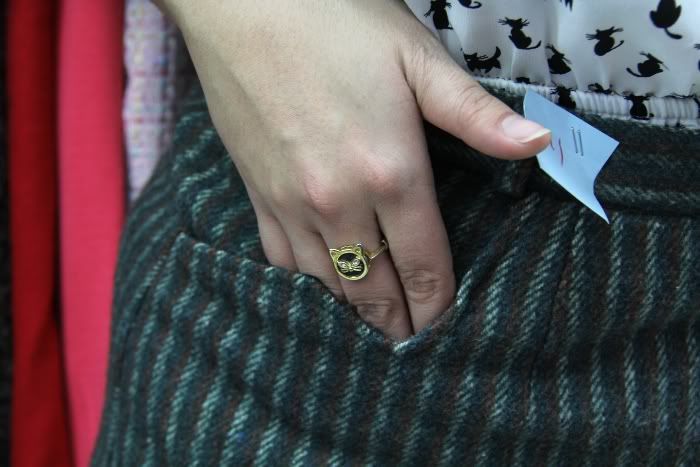 A closeup of the striped fabric of the pencil skirt and you can also see the 1950s cat ring I'm wearing.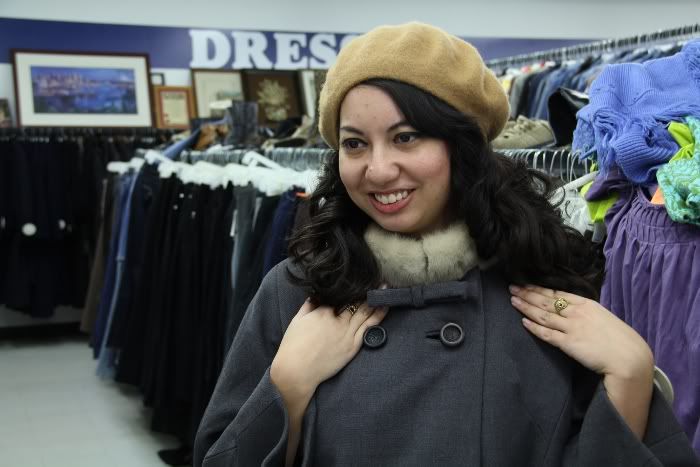 Coats, especially vintage ones, are overpriced at Family Thrift. I tried on two fur-bedecked coats anyways but they both were HUGE and not flattering.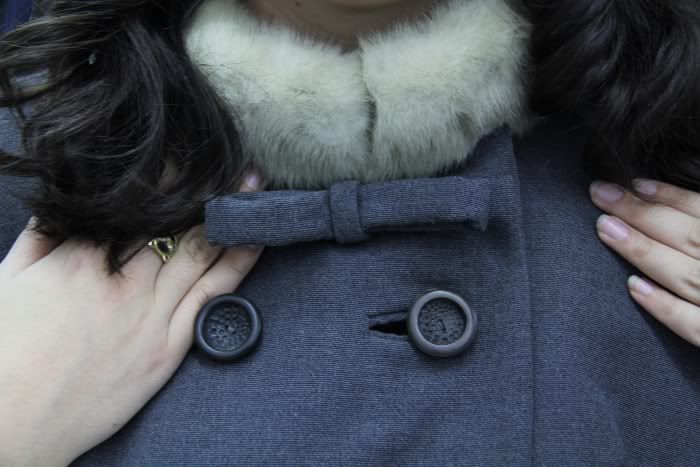 The best part of this 1950s swing coat was the little bow detail at the collar.
<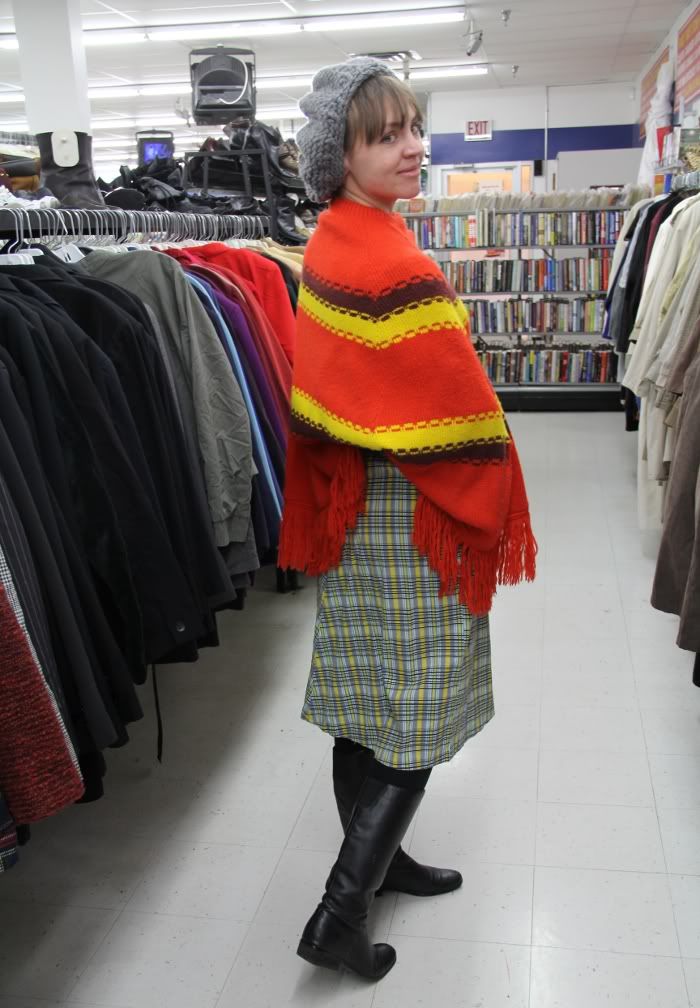 Nothing screams the 1970s like a knitted poncho in orange, brown and yellow with fringe!
<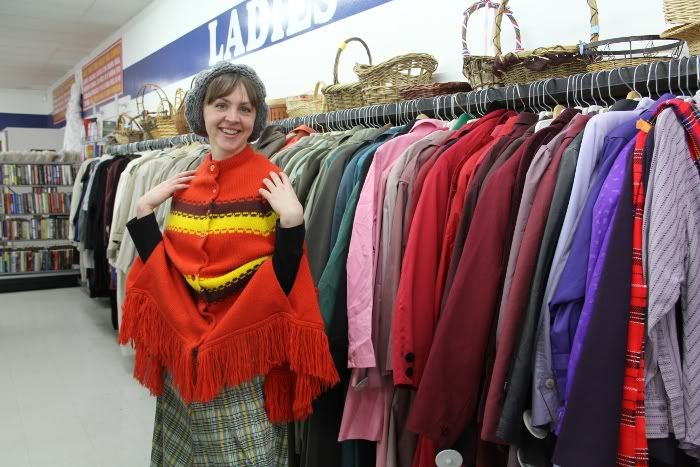 It buttons up the front! Even if this poncho wasn't so loud, it wouldn't be practical in the city due riding public transit (have to raise those arms to pull the bus cord).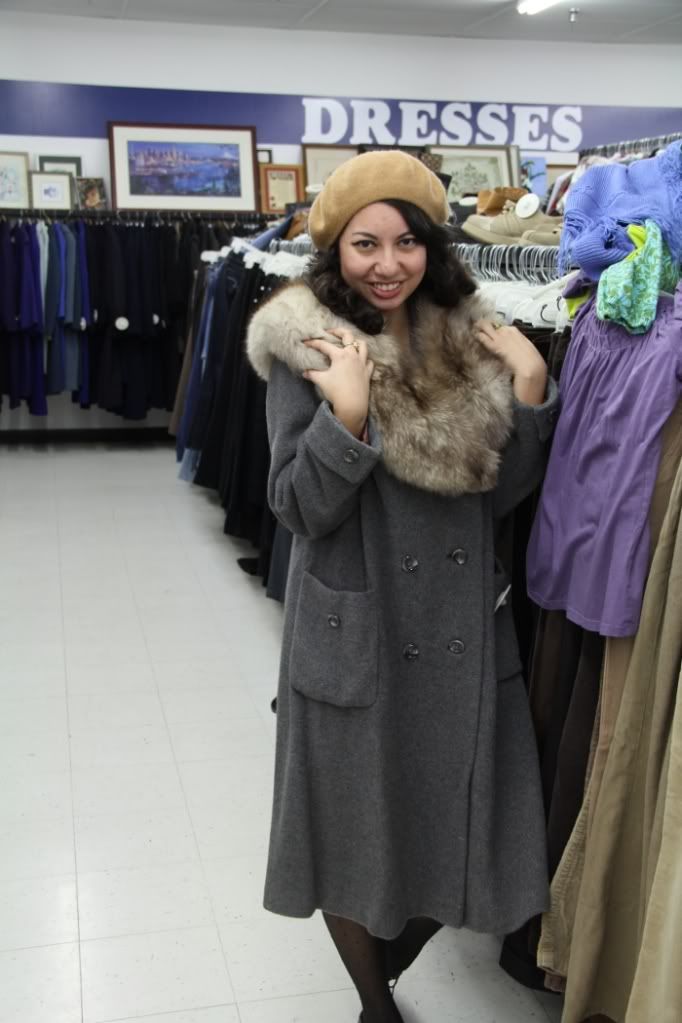 Another fur-bedecked coat, it made me feel very classy. The photos make the silhouette more defined than it actually was, in reality it had no waist to speak of and was very boxy.
After striking out in the coat section, I scooped up this 1960s mustard yellow wool purse. Oddly enough it matched with the '60s skirt found at the same store. Perhaps they were from the same former owner?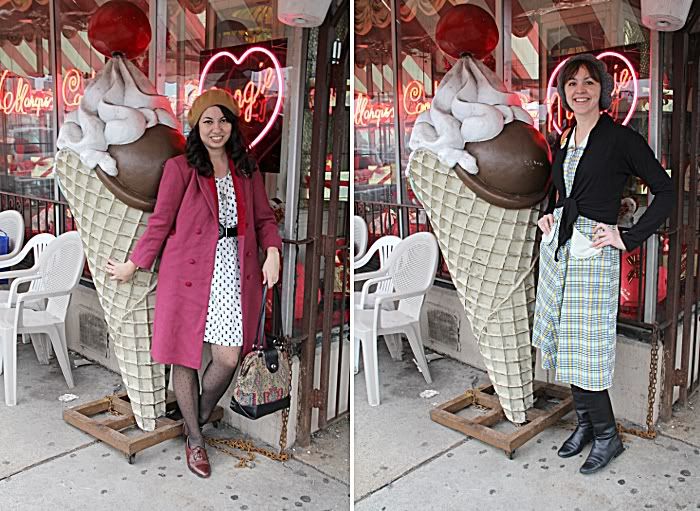 After spending THREE hours combing the two thrift stores, we strolled down Milwaukee towards Wicker Park. On the way we stopped to pose with the giant ice cream cone outside Margie's Candies, an old fashioned ice cream shop that has been operating since the 1920s.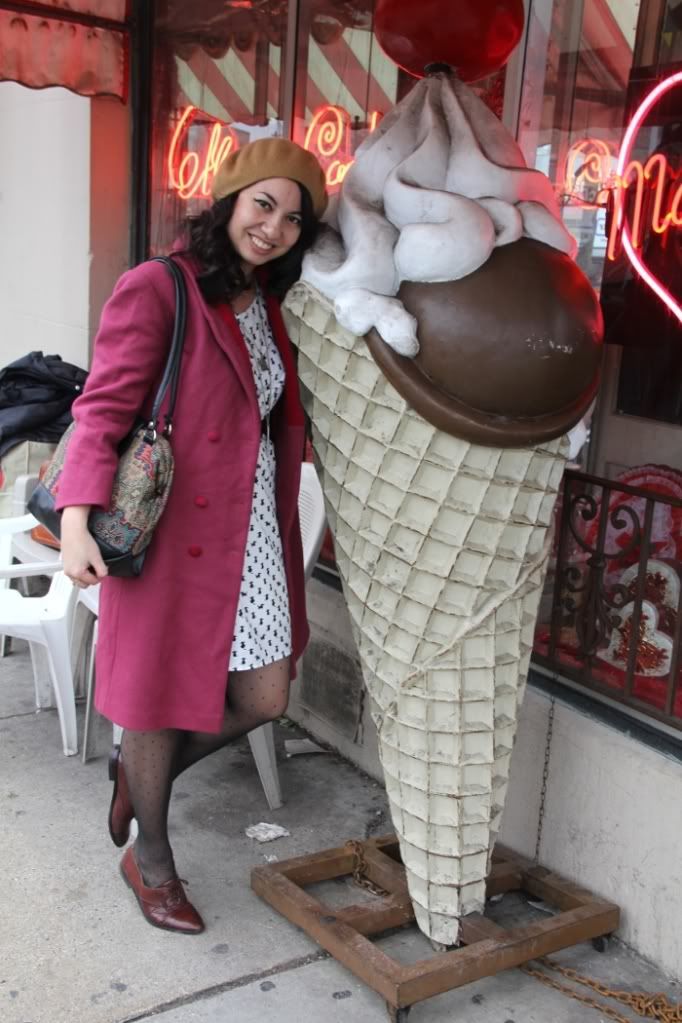 My berry pink coat matched the signage at Margie's.
OUTFIT DETAILS:
1980s Rothschild wool coat: The Village Thrift, purchased for only $1.80!
Cat Print Dress: Buffalo Exchange, Chicago
Vintage men's oxford leather shoes: Brink Dwellers Vintage, Chicago
1970s tapestry purse: Thrifted in Arkansas
Wool Beret: H & M
As you can guess from their name, Margie's Candies also makes its own chocolates.
In the Wicker Park/Bucktown neighborhood there are several Victorian-era rowhomes and city mansions interspersed with the apartment buildings and walk ups. I particularly liked the yellow facade of this home and the colors matched Maranda's outfit.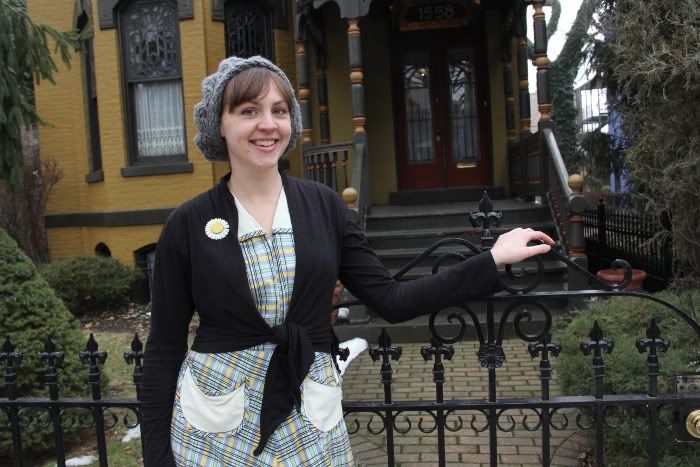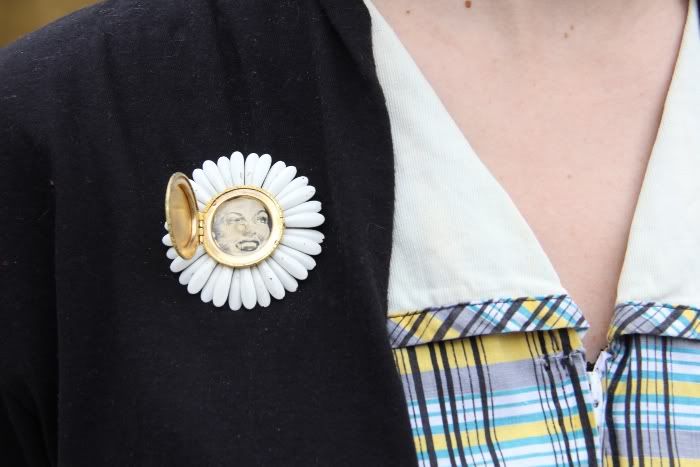 Maranda's 1960s enamel daisy pin had a surprise inside, it was a locket containing the original insert image of a smiling woman.
Yes, that is a real cannon in someone's front yard! It actually still had Christmas lights decorating it.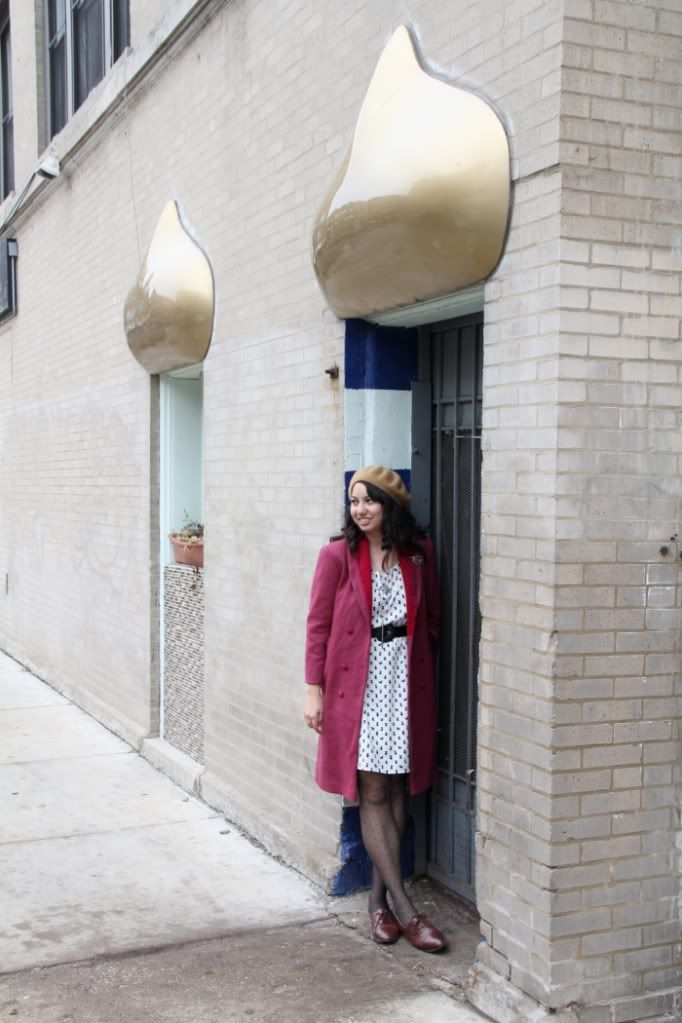 It doesn't look like I'm even in Chicago in the above photo– Sultan's building features gold domes inspired by Middle Eastern/Turkish architecture.
A close up of the jewelry I wore and my cat print dress.
Pewter Viking Ship Necklace: Swedish American Museum, Chicago
Silver Retractable Pen Necklace: Thrifted
The best part of my coat (besides the lovely berry color) is the velvet bow detail in the back!
I was attracted to the grand stone face and iron grillwork on this turn of the century apartment complex.
Do you go thrifting by yourself or on your own? Do you have a set "thrifting territory" that you hit each week?